I've been having a lot of very real dreams recently - nothing exciting or woowoo - mundane really - in one, I was sitting talking to my dear

soulspirals
to whom I was complaining that my ebay sales had fallen off dramatically, and she told me I needed to post more pretties on lj.
I've been running into bees and honey over and over again in the last couple of months -

tithenai
's honey month leading up to the release of

yuki_onna
's Palimpsest (and incidently a delightful CD arived in the mail from

tithenai
while I was away and which was the music back drop to all my creations yesterday, thank you so much!) and finally, yesterday, while walking the dog in the middle of a break from full on creativity, I came back to the car to see a bee man with a smoke gun ready to smoke a swarm from a cherry tree in the car park.
So here is my Bee goddess bracelet - amber in three colours, bee charms, and a tiny vial of norfolk lavender honey - $45 - this one will be heading to
etsy
I think.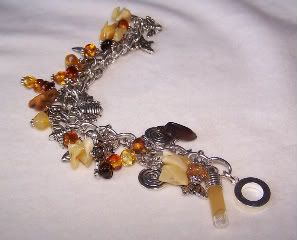 For ebay, since I am selling amber and jet jewellery there faster than anything else, one of my very last vintage brass hares with amber and jet (mixing currency's here since I'm lazy) it will be £45.99 in
ebay