Snakey and I spent most of the weekend gardening - largely because wanted a bench....over the last few weeks that garden has become a delight - I love sitting out there, and the bench makes it just perfect (oh well as perfect as a 12 x 15 ft city garden can be) we have a mixture of flowers - I'm growing some just to pick and bring into the house - and a couple of days ago I was able to pick a big vase of roses and sweet williams - and some for colour in the garden, and then veggies - tomatoes, potatoes, aubergine (the snails ate my squash), spinach, wild strawberries, raspberries, onions and several kinds of salad, plus lots of herbs.
Sammy is not impressed. Clearly he does not like nature except for a nice brisk walk once a day. We put a rug out for him, but mostly he stands anxiously and pokes us - "errrr humans...what are we doing outside? can we go inside now, it's nice comfy and there's no nasty bugs and green things....please?" After his failures at catching rabbits, perhaps I am going to have to except that he's a city dog at heart.
I still want something for the kitchen window sill - something pretty and colourfull that likes full shade - any ideas?
somehow I need to make space in the next day or so for more offerings from my mother - she's bringing me baby french lavender and sweet williams and more spinach - a few weeks further on than mine so I can eat it now.
and yes, I have my bench - I am doing my morning sitting practice surrounded by beauty often with a cup of tea made with herbs from the garden.
yes, I can ramble on about the garden at length - I love gardening, I love the soil on my hands and under my finger nails, the smell of water on the hot stones, twigs in my hair and green things all around me.
Yes, I promised pictures!
the garden - yup, this is pretty much it - or the best shot I can get given the lack of space.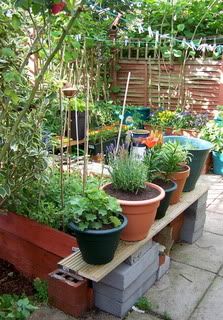 baby salad - they said sew it thickly.....I think I will spread it out more next time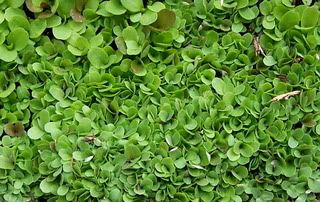 The garden helpers - or big boy dog in tiny garden.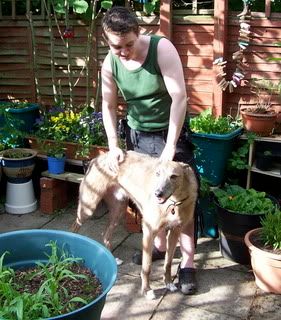 Bench!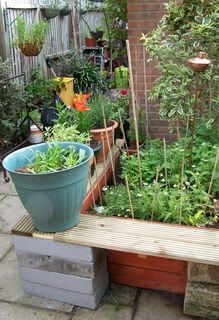 Bench also! I wish I could get rid of the canes from the raised flower bed, but they keep the dog out.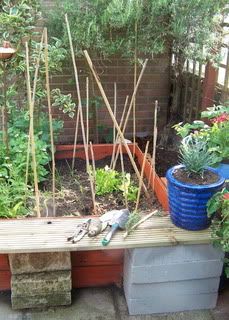 likewise everything has to be raised up off the ground....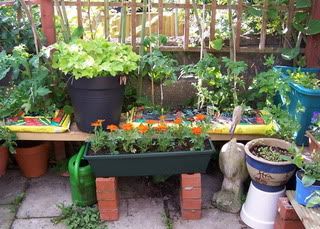 Tubs! the yucca has been repotted and allowed out of the house for the summer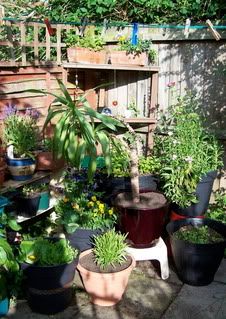 Sunset through the fence
poor tired confused lurcher - what the hell are those humans doing now....they appear to be cooking out here....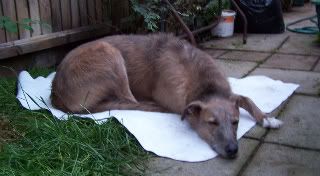 garden altar by candle light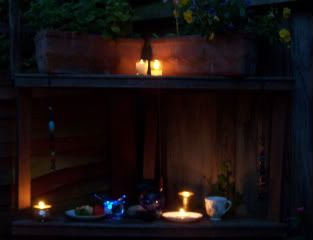 embers at the end of the day